Benefits Category
Health & Wellness
Great Hearing Benefits
provided by
Great Hearing Benefits
Nebraska Farm Bureau is partnering with Great Hearing Benefits to provide members with access to hearing care and hearing aids at a significantly discounted price.
Members can save up to 50% on top hearing aids provided through companies like Beltone, ReSound and Jabra and that's a substantial savings!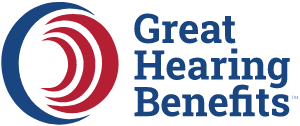 AirMedCare Network
provided by
AirMedCare
Nebraska Farm Bureau members qualify for a special members only discounted rate when joining the AirMedCare Network. AirMedCare is the largest Air Ambulance Membership Network in the United States. 

This benefit automatically enrolls you in all AirMedCare provider membership programs, (Air Evac Lifeteam, REACH Air Medical Services, Med-Trans Air Medical Transport and EagleMed), giving members coverage in more than 320 locations across 38 states.

AirMedCare memberships include the entire household. Enroll now and be prepared if you or a family member is ever involved in a life or limb-threatening emergency and are in need of air ambulance services. The average out of pocket expense for Air Ambulance Services is $25,000. AirMedCare Network members pay NO out of pocket expenses when using this service.



Convenient Care Plus
provided by
Convenient Care Plus Telehealthcare
Convenient Care Plus
(CCP) offers access to high quality healthcare through a nationwide network of on-site healthcare providers and telehealth doctors.  
CCP is a healthcare membership, similar to a gym membership, for basic healthcare. For a low monthly fee, you enjoy unlimited access to a network of credentialed physicians who can diagnose most healthcare problems and prescribe medication by phone or video conferencing.  All plans
include the cost of generic medications
and some plans
cover the cost of x-rays, laboratory services, and Urgent Care visits
.
Click here
for a list of the Top 50 Telehealth Diagnoses and the Prescription Medications included with the CCP Plans. Learn more
https://youtu.be/HMUepaVKduM

Life Line Screening
provided by
Life Line Mobile Health Screening
Farm Bureau members can take advantage of Life Line Screening's mobile health screening services for a discounted rate of $135 per person. The average cost is $159 per person. That's a savings of $24 per member!  

The Vascular Screening Package includes: Carotid Artery, Atrial fibrillation, Peripheral Arterial Disease, Abdominal Aortic Aneurysm and Osteoporosis Screening.  For more information on the screenings, please see this video.
Starting in June 2020, Life Line Community Health Services is providing a No-Cost Home Annual Wellness Consultation by phone to Nebraska Farm Bureau members over the age of 65 with Medicare Part B coverage.  It's a great way to reduce your exposure to the Coronavirus and other illnesses while maintaining your personal healthcare.

Northwest Eye Center
provided by
Northwest Eye Center Clinic
Farm Bureau members receive a 15% discount on all materials (except disposable contacts) at Northwest Eye Center located in Chadron, NE.  

All lenses are automatically scratch-coated at no additional cost, many single-vision prescriptions can be made the same day, and new contact lens patients usually leave with contacts on the day of their examination.

Prescription Drug Card Program
provided by
Prescription Drug Discount Card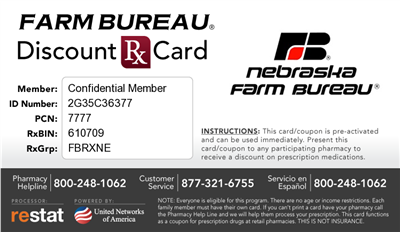 Webb Eyecare
provided by
Webb Eyecare Clinics
Save 20% on prescription glasses with your Farm Bureau membership.

The doctors at Webb Eyecare make it their mission to provide high quality and personalized eye care services for all patients. They guarantee all eye wear is manufactured from ophthalmic materials of the highest quality, strength and durability and is free of defects.